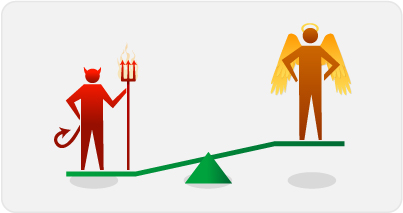 It is with a certain sense of pride that I watch as fellow Yahoo Christian Crumlish announces the arrival of a number of Reputation Patterns to the Yahoo! Design Pattern Library. If you've seen me speak in recent months (or followed the ol' blog) then these should be familiar territory: they represent a year or so of my work on an (internal to Yahoo!) Reputation Platform.
On the surface, they are fairly simple (by intent.) Game-like elements and incentive systems are much on-the-mind of social software designers these days. These patterns should provide some guidance to the IA, Designer, or Product Manager who's just now considering how best to wield these implements.
My own personal feeling, however, is that we're rapidly passing the point where the newness and novelty of these patterns is what's noteworthy. ("Hey look! Points!!") Soon, (now?) the care and respect with which we employ these patterns is what will be worth noting. A careful consideration of the context that we deploy them in; an honest and earnest attempt to build communities worth inhabiting (and not just ratcheting up peoples' competitive desires to dominate the leaderboard.) These are the challenges we face when considering how best to reward users' participation in the communities we build.
I would love it if these published patterns were a simple starting point for that conversation. (Though—to be fair—it's already taking place.)
I especially want to honor the contributions of a couple of folks to these patterns: Randy Farmer was Yahoo's Community Strategy Analyst during the months that we collaborated on User Experience best practices for reputation, and his imprint on these patterns is indelible. There's a certain approach to social software design embodied in these patterns that is entirely Randy's influence.
And Yvonne French was the Product Manager for the Reputation Platform. Yvonne worked closely with a number of Yahoo! properties and stakeholders to ensure that thoughtful, considered approach I mention above. She is a walking canon (and a loaded cannon!) of reputation best practices.
I'm really excited to get these out there, and we (Christian and I) hope to add a couple more to the mix in coming months. So… please do enjoy!